I'll be totally honest. I completely forgot I had this blog when I first heard the news of who was going to be playing Storm in the upcoming X-Men: Apocalypse movie .  This post would have been up way, way sooner than today.
By now everyone knows that the new X-Men movie is coming out in 2016 and that there are new players in this game.  The rest of the OG's (minus Hugh Jackman) are being swapped out for younger actors.  If you've seen the last movie (X-Men: Days of Future Past) it completely makes sense as to why. But I'm not here to go much into detail about the movies itself.  Ororo Munroe.  That's who I'm here for.
The moment I saw who was playing Storm, my first thought was… wow she is beautiful.  Next thought was…who is she? Alexandra Shipp.  Her face and name didn't ring any bells, so of course I went onto IMDB.  She's been on a few shows that I've seen (Awkward., Ray Donovan, Switched at birth) and played Aaliyah in the TV biopic about the R&B princess (which I refuse to watch because I heard it was horrendous).  She also is going to be in Straight Outta Compton which I will be watching when it hits theaters tomorrow.
Now, Im not sure yet if her acting skills are good enough for this film and her castmates, but I do know from the photos I've seen, she looks like she is going to make one hell of a Storm.
As for the mohawk look that Shipp had to wear, if any of you don't know, Storm wore this look in the 80's which is the time X-Men: Apocalypse is supposed to take place.  Kudos to Shipp for being smart enough and happy to shave off her head for the role instead of going the bald cap route.
I know people might start comparing her to Halle Berry, but for some reason I don't feel the need to.  I thought Halle Berry was perfectly fine as Storm (and not as Catwoman) and she is a gorgeous woman.  I just don't feel like they gave her character much to go on and the only parts we remembered she was part of the team was only when they needed her to change the weather. (Wouldn't that be useful during New York snow storms).  Furthermore, let's not forget how Ms. Berry was able to rock all the different hairdos for the part, so it was only fitting that they found someone that can also rock any hairdo.  I'm looking at Alexandra as just the younger version of Halle Berry, just like I looked at Jennifer Lawrence as the younger version of Rebecca Romijn and not comparing the two.
side note: Halle Berry should really hold the record for most hair changes on a comic book character.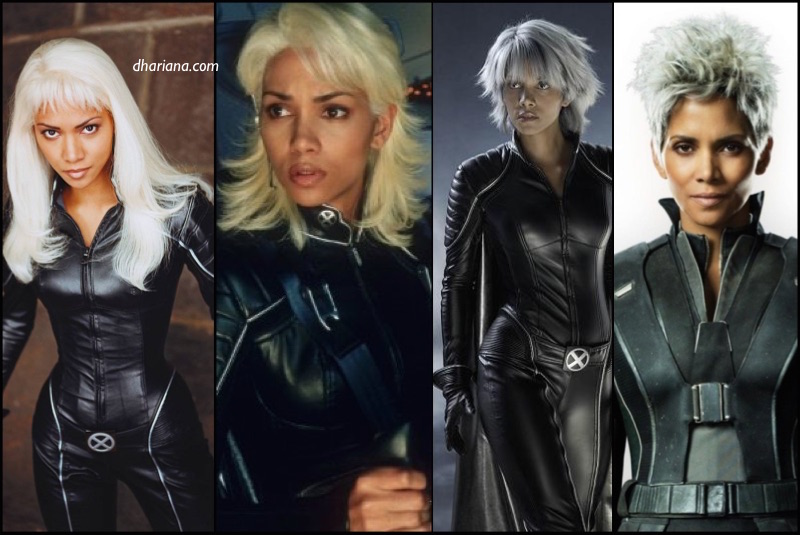 As much as Alexandra looks the part, I would love to see her bring Ororo Munroe justice. I would also like to see the writers bring out more of Storm's back story which I think is highly likely since last film showed a flashback of Cairo, Egypt (where Storm grew up).
Hopefully this Shipp won't sink while playing Storm.   😛
-Dhari